overintheocean, originally uploaded by Hannah Cloud.
The 
Over in the Ocean
book by Marianne Berkes and skillfully illustrated in polymer clay by Jeanette Canyon is a take on the traditional song book
Over in the Meadow
made famous by
John Langstaff
, founder of Revels and a longtime musical hero of mine. His album
Songs for Singing Children
is a great place to start listening to him.
The lyrics of the Ocean book are fun, with puffer fish, sea horses, turtle, parrot fish, octopus and more, but the most amazing part is the illustrations which are completely created out of polymer clay (think fimo). I couldn't stop staring when I found this book at a friend's house and covet a copy for myself.
Here are some crummy pictures I took with my phone-- they don't do the book justice at all. You should definitely check it out. Apparently she also has an Over in the Rainforest book which I have not see, but imagine is quite spectacular.
I am always taken with children's books illustrated in non-traditional ways and was lucky enough to visit the
Peabody Essex Museum
in Salem with the boys on Monday while children's book illustrator Robin Brickman was demonstrating her craft and running an art activity for kids. She works by making 3D watercolor paper collages (she was perfecting a salamander scene when we spoke with her). Below is a page from her book called Beaks and the cover of her latest book, Wings.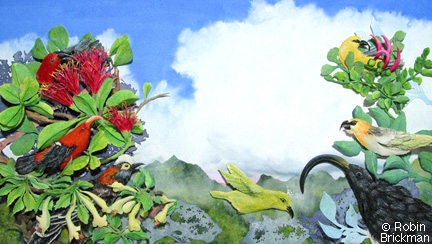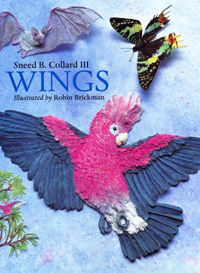 Salley Mavor is another artist who stretches our perception of illustration by using textiles, felting, wool, and found objects such as acorn caps to create lush, touchable scenes in her books
Hey Diddle Diddle, Mary Had a Little Lamb, Jack and Jill, and Wee Willie Winkie.
I look forward to her newest book of Nursery Rhymes,
A Pocketful of Posies
, which is being published this September. I think it would make a wonderful baby shower gift.